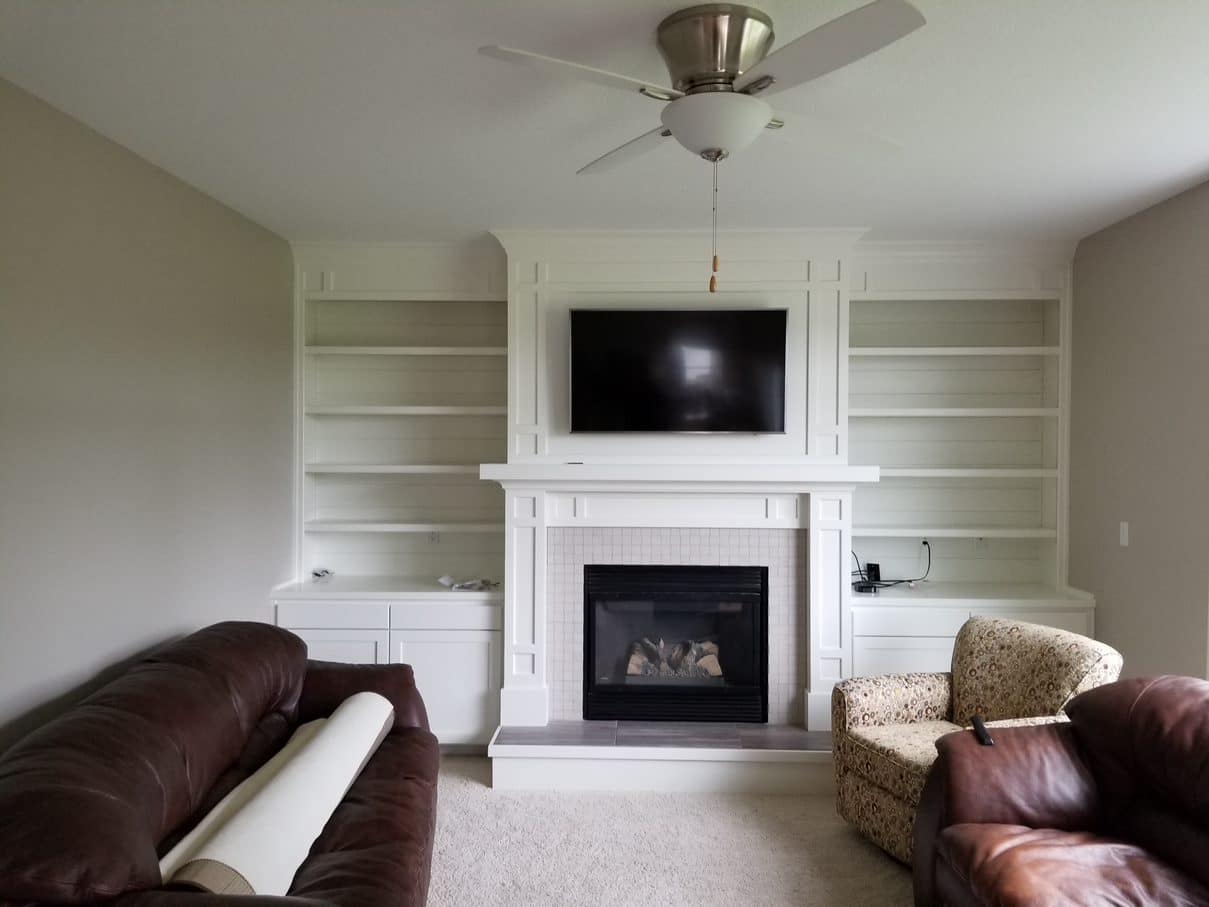 Hickory Construction recently completed a significant renovation in our Ames home. The scope of work included new kitchen cabinets, fireplace & bookshelves, bathroom vanities, glass shower, and staircase with railings. Additional lighting, plumbing, tiling, and electric work was coordinated and managed by the Hickory team.
We have had great luck with service companies of all types here in Ames, and Hickory is now our go-to for home projects. Their team, including the leader, Ben Kellen, are all professional, courteous, and went above and beyond each day to clean up the work area to make our home livable while the project was active. Ben has great vision, listens well, leverages technology for project design & visualization, and stays on time and on budget. What was expected to be a somewhat painful process was very pleasant and we couldn't be happier with the project outcomes. Our family would highly recommend Hickory Construction to our friends, family, and neighbors.
Matt L - Ames
Project Description: Replace all trim and doors, remodel 3 bathrooms and kitchen.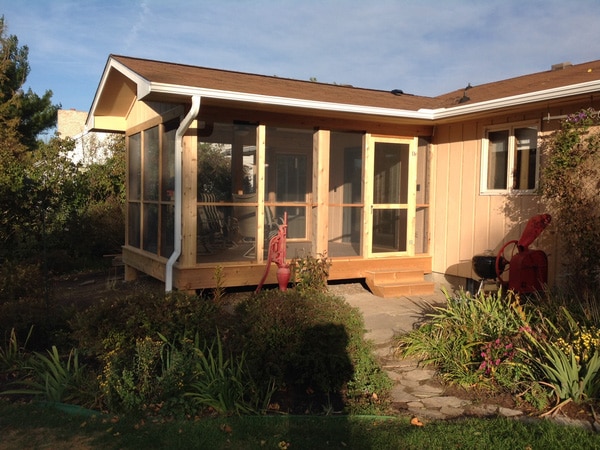 After seeing the quality of the work that Hickory Construction did on a room addition for a friend's home we decided to contract with Ben to have him and his crew build a screened in porch on our home.
We were very pleased with how the project was managed, and how we were kept informed of the progress.  Any questions that came up were handled in a timely and professional manner.  We were also pleased to see Ben on-site often to ensure the project was proceeding as planned.
Ben and his crew were focused on "doing the job right."  As a result we now enjoy a screened in porch that has exceeded our expectations in terms of quality and craftsmanship.
Rich Jones
Project Description: Build a new screened porch.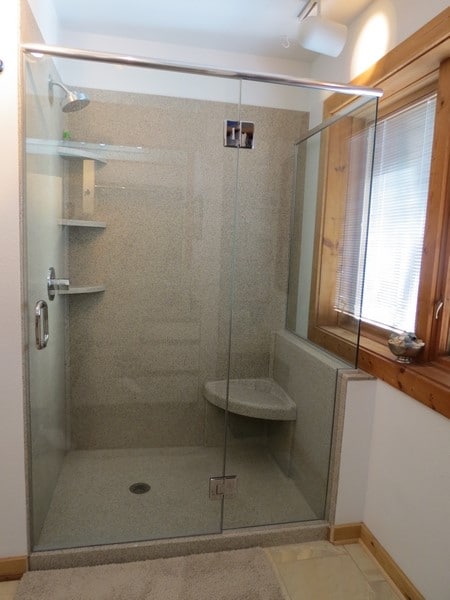 Working with Ben and his staff, as well as the subcontractors he recommended, was a delight. Ben was very generous with his time and attention as he helped us identify our priorities. He graciously accepted and mastered additional challenges that were beyond the original scope of the project. He and the subcontractors collaborated creatively and effectively to resolve several unanticipated issues. Clearly they were committed to quality work that resolved the problems we identified, within the budge parameters we set. The results of their work exceeded our expectations.
In addition, Ben, his staff, and the subs all seemed to enjoy what they do and were fun to have around. Our experience with Hickory Construction was so great that we have just begun talking with Ben about two possible additional projects! If you are looking for conscientious, skilled, creative craftspeople who are fun to work with, make sure you talk to Ben at Hickory Construction.
G.A. - Ames
Project Description: Remodel bathroom and shower.
Before: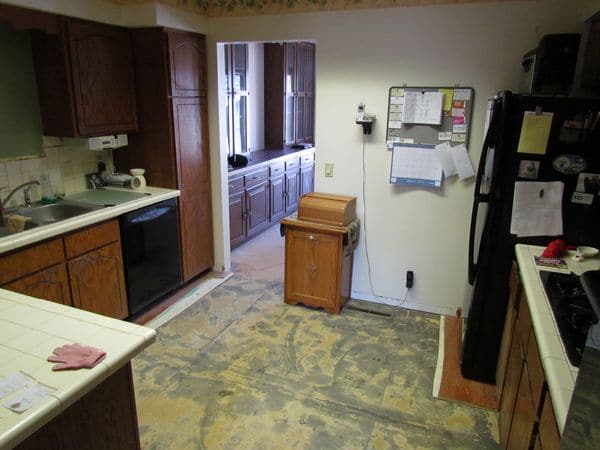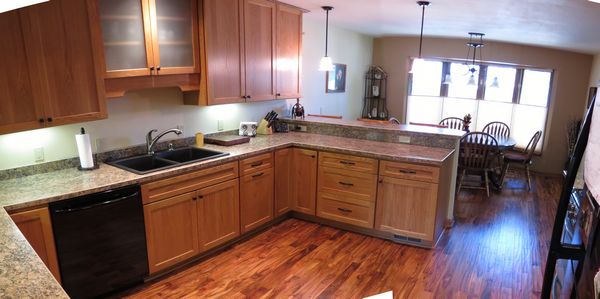 After: Removed wall and remodeled kitchen
We had the pleasure of having Hickory Construction complete our recent Dining/Kitchen remodel. Ben and his crew were professional, timely, and detail oriented. They took the time to explain each part of the remodel each step of the way. No question was considered "dumb" and the answers were easy to understand.
The end result was a kitchen/dining area that looked exactly like we imagined it would. We are proud to entertain and share this with all of our family and friends. The next time we need a top level project completed in our home we will call Ben Kellen of Hickory Construction! We are happy to recommend him to anyone who asks! Thanks!
Deb & Paul - Nevada
Project Description: Removed wall, installed new cabinets and flooring.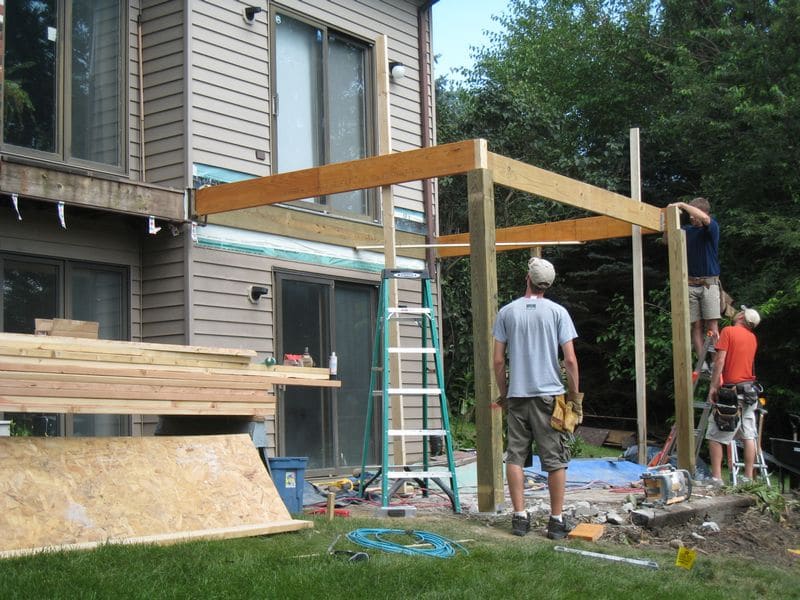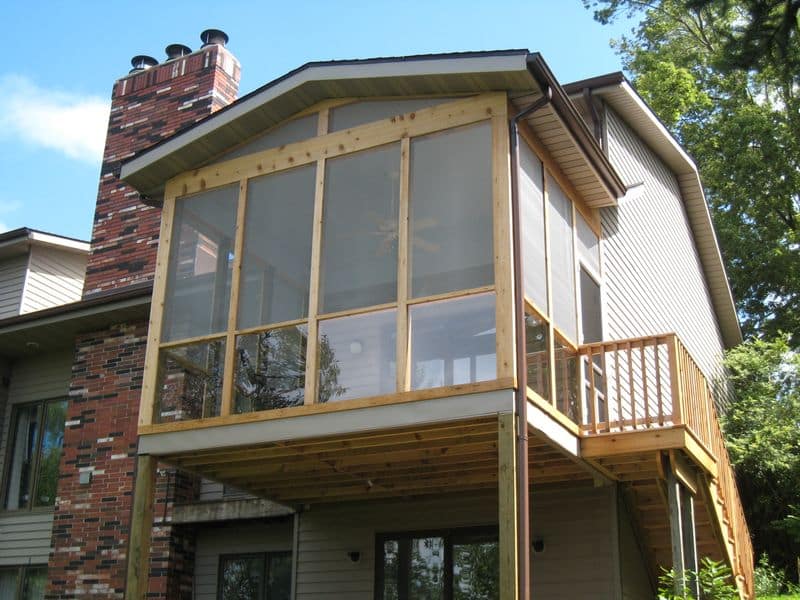 I am so happy that we contracted with Ben Kellen and Hickory Construction to replace our old deck with a screened-in patio room. He took our rough sketch, suggested improvements and then proceeded to build with a sense of craftsmanship and pride. The results exceeded our expectations!
The new patio room looks great and blends perfectly with the house, as if it had been there since day one. I highly recommend Ben Kellen and his crew for their affordable excellence."
Wendy - Ames
Project Description: Removed existing deck and build new screened porch with vaulted ceiling and ceiling fan

"We bought an old house that needed extensive remodeling which was not an easy task. Hickory Construction did a tremendous job of transforming our home. They were very receptive to our needs and we could always trust them on price. We would recommend this company to anyone and plan to use them for our future projects." 
David and Jessi - Ames
Project Description: Demolished existing kitchen/living room. Repaired and corrected failing structural issues, completely remodeled kitchen and living room, removed walls, doors and added arches.

Hickory Construction finished our basement and we were delighted with the process from the beginning to the end. Ben, his crew, and subcontractors provided quality work. Their professionalism and attention to detail made the project seamless. Ben's communication and scheduling was key to the success. This helped keep our project on budget and construction time frame reasonable. Thanks Hickory Construction for a job well done.
Lisa - Ames
Project Description: Took unfinished basement and added bath and living area. Re-built stairs and trimmed in oak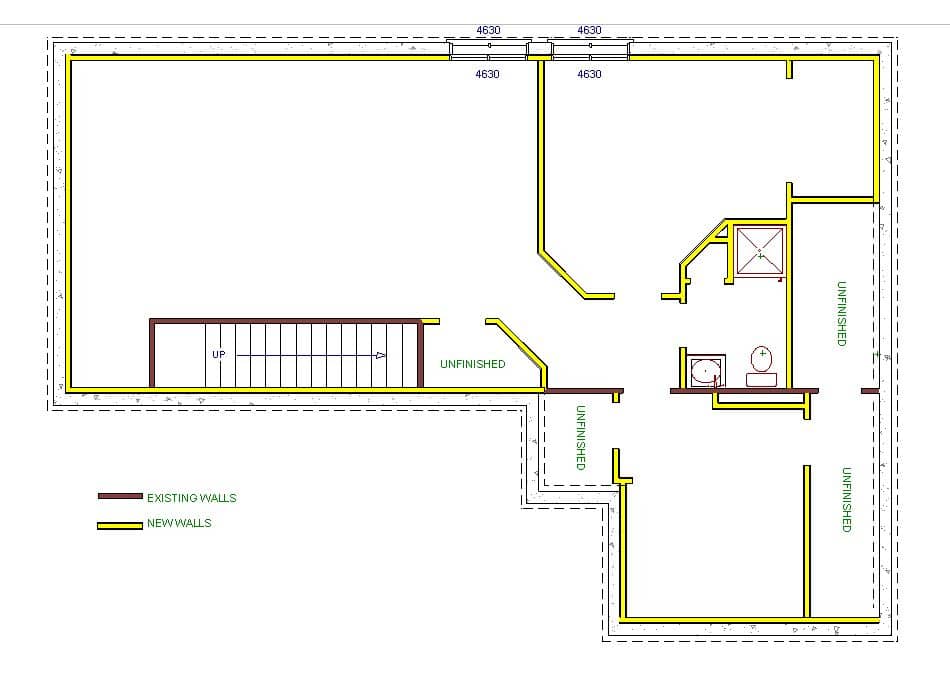 Being fans of the Holmes on Homes (HGTV) television show we knew what kind of contractor we wanted to finish our basement and help us protect our investment. Thankfully we were referred to Hickory Construction.
Hickory Construction was the right people, at the right price, who took pride in finishing our basement. Ben and the crew were very dependable, knowledgeable, efficient, willing to answer questions, and flexible with changes as the project progressed. We were also impressed that Ben, the owner, was present and also working to transform our basement throughout the project.
If you're looking for a contractor with an excellent group of subcontractors who CARE about the work they're doing look no further than Hickory Construction. Thanks Ben, Ty, and Tim.
Andrea & David - Ames
Project Description: Unfinished basement. Finished basement, adding two bed rooms, living area, bath and storage rooms. Insulated ceiling and walls for sound.

"Ben finished our basement for us. The work was A+ quality, and he was straightforward, fair, reasonable and honest. The job was completed on time, and Ben was always responsive to our questions and needs. We would use him again and have recommended him to our friends."
Jason & Melissa - Polk City
Project Description: Provided drawn plans for basement layout. Framed walls & bulkheads, installed cabinets and trim in basement.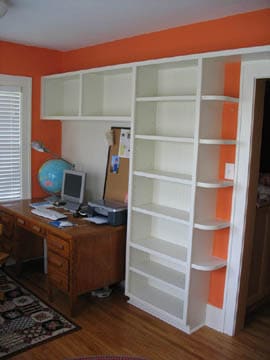 "Working with Hickory Construction was a breath of fresh air! Ben Kellen was an excellent planner and took lots of pictures and made lots of drawings to study the area we were adding shelves to ... what he designed and built for us was over and above what we could have ever hoped for ... professional in quality, suitable to the style and era of our older home, affordable, and functionally ideal for our home office and our families' needs. We plan to use Hickory Construction again for additional work in the years to come! Thanks,"
Darryl - Ames
Project Description: Provided 3D drawings and ideas for built-in shelves. Built, installed and painted shelves.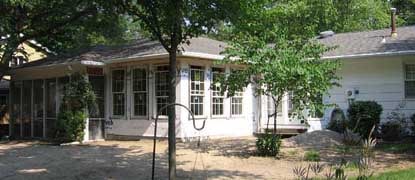 "Hickory Construction put an addition on our kitchen/screen porch. Owner Ben Kellen worked with us to design a plan that incorporated the new construction into the age of the existing structure. The addition blends so well all the way from the outside roof line to the inside kitchen cabinet area; it looks like the new addition is part of the original house.
Ben was so easy to work with. His work and that of his sub-contractors was done in a friendly, timely, organized and trustworthy manner. The process went very smoothly. The professional quality of their work was excellent. Ben not only stands behind his work, but his word. That is very important to us and has been a deciding factor in recommending Hickory Construction to our friends, family, neighbors and co-workers. We look forward to doing business with Ben again in the future. "
Ken and Doreen - Ames
Project Description: Drew multiple room and roof layout possibilities in 3D for a new sunroom addition. Framed and finished exterior.